New Web Site
Welcome to my remodeled web site. Leaner. Some things are in different place. Some things aren't here any longer. That's the way it goes. Check it out. I'll be adding more articles and other items as the calendar moves across the sky.
Thoughts and Observations
Be Your Best Writer
by Victor David Sandiego | Published: Nov 24, 2022
Lots of advice out there. A whole industry dedicated to telling you what you need to do to be a good writer so that you too can write about how to write. Or something like that. I just keep seeing this image of a snake eating its tail. Always feeding, never satisfied. Strange, but I can't shake it.
Anyway, there are things you can do to become the best writer you can be. Here's a few ideas.
Gather your books
Go to your bookshelf and find all the books that contain writing advice. Pick them up, say thanks to each individually, and then take them down to the railroad tracks on a cool night and give them to a group of homeless people to put in their burn barrel. That's what they're good for, and that's where they'll do the most good.
The Idolization of Military Service
by Victor David Sandiego | Published: Nov 20, 2022
In the summer of 1970, when I was 18 years old, I walked down to my local Army recruiting station and signed up for a three year hitch. I had some vague, noble notions of serving my country, other urges of moving from youth into manhood, the desire to vent an amorphous anger with three round bursts, but my main objective was to make my father (a world war II vet) proud. One thing that I never expected, asked for, nor wanted was public acclaim. I knew as well as anyone that soldiers returning home during this era of the Vietnam war were often reviled for participating in what was broadly seen as an unjust action.
Four and a half decades later, I saw a post on social media of a soldier holding a cardboard sign asking for viewers to "like this picture." "We need your support," it read. Following were thousands of comments, mostly of the "thank you" or "God bless you" for your service variety.
The Walking Woken
by Victor David Sandiego | Published: Nov 10, 2022
Allow me to state up front that I'm not an expert on the culture wars. I'm not a specialist on what separates one faction from another in the ongoing conversation about who's more aggrieved and why you should care, or what underrepresented group is more underrepresented than another underrepresented group. Therefore, if I stray from the dictates of what constitutes the so-called woken culture (formerly known as the PC police), please remember that my credentials consist merely of common sense and many years on the planet.
Using simple observation, I have seen more and more how people get upset, even infuriated, over smaller things, as if larger, more important issues that affect entire peoples and the planet itself are too big to take on. It seems that many people believe they must be offended at something. An off color joke. A piece of clothing. A small moment of indiscretion. Even an observation such as a black person isn't white. For too many, outrage is a requirement these days.
Sometimes I just shake my head. With all the purity tests exacted and all the indignation over everything considered outrageable these days – which is most things – I often wonder how anything gets done.
The Other Idiocy of Censorship
by Victor David Sandiego | Published: Oct 25, 2022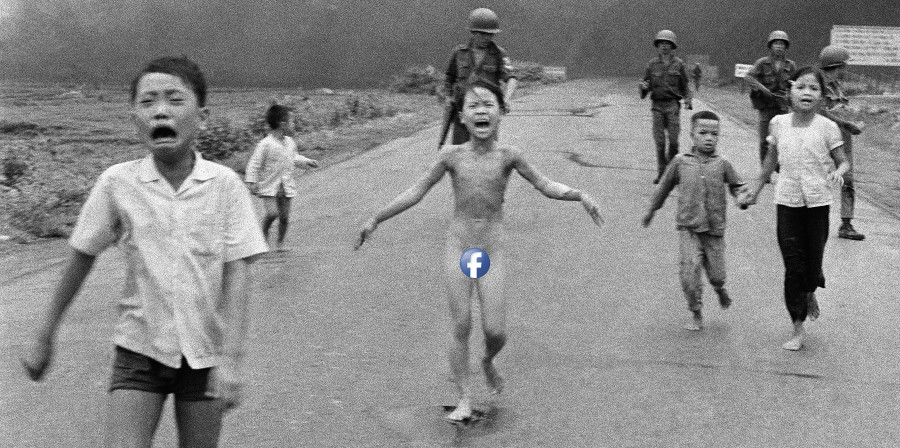 A few days after Tom Egeland, writer for the Norwegian newspaper Aftenposten, posted to Facebook the iconic Vietnam War photo of a young girl, Kim Phuc, fleeing a napalm attack, Facebook removed the post and suspended Egeland for questioning their decision.
Much has been written about Facebook's decision (which they later reversed due to the bad publicity), but the outcry and condemnation missed a vital point. Critics rightly argued that the nudity in the photo is not pornographic in any sense of the word, but is rather an important and powerful statement in respect to our shared history.
Every Man Is An Island
by Victor David Sandiego | Published: Oct 01, 2022
This is the part that scares me. If it scares you too, you may belong to my tribe. The tribe of incomprehensible blankness. Oh, I don't mean blankness of mind, I mean that which is probably worse – blankness of spirit.
Allow me to explain. I have lived a million miles of landmines and have come to expect that the rest of world has too. Probably worse. So I feel that everything I might have to say has been said by people more worthy of their suffering. I've been hungry but I haven't starved. I've lived under bridges but it was my choice. I went for many long periods without love, but it was of my own volition.
Our Reaction To Tragedy
by Victor David Sandiego | Published: Sep 11, 2022
On September 11, 2001, I was at home in my office in Seattle when I heard the news that planes had crashed into the twin towers in New York. At first I was stunned, like most everybody I suppose. After the initial shock wore off and I had a chance to get some of the emerging details, I realized that this event would change everything, that this event marked the end of the United States as I had known it.
Within months, in the form of the PATRIOT act and the establishment of the Homeland Security Department, new broad and sweeping legislation passed that gave the government powers a nation not in panic would likely have rejected. Many lawmakers, in their hurry to act, didn't even read what was presented to them. And so the United States, and to a great extent the world, went forth into a new era where fear became the norm, and anything to alleviate it, or even to pretend to alleviate it, became acceptable.
Odd Fiction For You
Check out my substack, Dynamic Creed for odd, evocative fiction from the edge of life. Every Tuesday. Subscribe for free and get lovely stories right in your inbox.
Go to Dynamic Creed.
Quick Index
Here's a quick list of currently available items.
* * * *